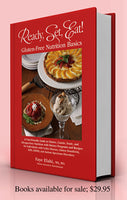 Ready, Set, Eat: Gluten-free Nutrition Basics- book
Faye's new nutrition book, Ready, Set, Eat is based on 20 years of observation and data collection. She offers step-by-step techniques that have helped her clients manage challenging diets free of gluten, casein, lactose, yeast and food allergens with tips on how to feed a picky eater. With everyday recipes covering breads to ice cream, you're sure to find just what you're looking for. Recipes include brownies, flaky buttermilk biscuits, chicken potato salad, and lasagna - all free of food allergens. The book has an easy to follow format which puts together a 4-week menu with full-color photos which should be motivation to anyone to try the Nutrition Foundation Program.
Place your order for this book on this website NOW so you can start enjoying these nutritious recipes for the holidays!
Order Now
Tasty Dishes
This Month's favorite Gluten Free Tasty Dishes.
See What's cooking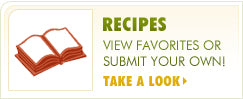 Recipes
View favorites Gluten Free recipes or submit your own.
Take a Look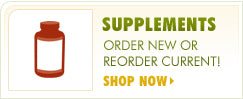 Supplements
Order New or Reorder Current Supplements for your daily needs
Shop Now
"My son, Johnny had sensory processing integration disorder. Although I was doing my own research and finding vitamins for him, our occupational therapist highly recommended seeking the services of specialized nutritionist, Faye Elahi. When she met my son, she wasn't quick to label him! She has an uncanny way of seeing the end goals, yet simplifying the steps necessary to reach those goals. We went from using over 25 vitamins per month to only 4 ! In a matter of 2 weeks, Johnny improved in his eye contact, speech, and attention while we saved a significant amount of money! Faye also gave us cooking and grocery shopping tips. Now after 10 months of Faye's nutrition therapy, our son is able to attend regular kindergarten. As parents, we are over the moon!

C. Smith
"Faye Elahi literally saved my life! I was at my lowest weight of 97 pounds, height 5'6", at the young age of 29! I was constantly tired, nauseous, fighting chronic foggy brain, and barely able to eat. By the grace of God, I was referred to Faye Elahi by my dermatologist. She diagnosed me with Celiac disease, and designed a special diet which turned my health around within about 6 months! Prior ro seeking Faye's help, my gynecologist had told me that I wouldn't be able to conceive any child. Of course she was not familiar with the signs and symptoms of Celiac disease which if gone untreated, could lead to severe malnutrition! Ironically, once I re-gained a normal weight, I was able to become pregnant. Now I am the mother of 3 healthy and energetic children. Praise God for the blessings and for bringing Faye into my life."

V. Hart
"I have been diagnosed with Parkinson's disease 3 years ago. After implementing medication therapy for a year, I started having swallowing issues which nearly choked me once, while eating a quiet dinner with my family. I knew that this was related to my Parkinson's but I wasn't willing to be tube fed at the young age of 47! My support group referred me to expert nutritionist, Faye Elahi. She demonstrated the safe ways to swallow food and beverages and to keep practicing these techniques with my family members around. She also designed a diet for me that would reduce if not eliminated risks of aspirating my food . My family and I feel empowered about knowing what food to avoid, what to eat, as well as how to eat which has allowed me to enjoy eating with my family and friends again. Thank you Faye! "

Julie B.